About Us
YOUR FULL SERVICE GARAGE
Platinum Garage is a locally owned and operated, full-service mechanic shop in Gillette, Wyoming. Our technicians are ASE-certified and sure to treat you and your vehicle with respect every time you come to see us. Our services reach every town or city within a 200-mile radius of our shop. We are also the only AAA-approved auto repair facility in a 100-mile radius.
We have been in business since 2006. Our highly trained and experienced mechanics are the lifeblood of our service shop. At Platinum Garage, your car, truck, or SUV tune-up starts with an oil change followed by a system check. If we discover any significant problems along the way, we'll walk you through your options for repair. Our comprehensive service list includes:
Oil change, lube, and filter check

Air filter replacement

Spark plugs and wire replacement

Brake check

Brake system repair

Transmission fluid check and replacement

Emergency brake adjustment

Air conditioning system check

Engine repair

Heating and air conditioning repair and service

Steering, suspension, and drive train inspection and replacement

Diesel repair

And more!
Please note that we are not a body shop, and we are not equipped to work on semis.
No job is too big or small for our team to handle! We sell and install B&W hitches and we are a distributor for Thunderstruck Bumper Guards. Whatever your automotive needs, Platinum Garage is ready to help!
We are large enough to serve and small enough to care. Contact us to schedule your appointment today.
OUR SERVICE ADVISORS
Our service advisor team is the liaison between you and our technicians. These ladies are the face of the shop and strive to provide you with the best customer service this industry has to offer every time!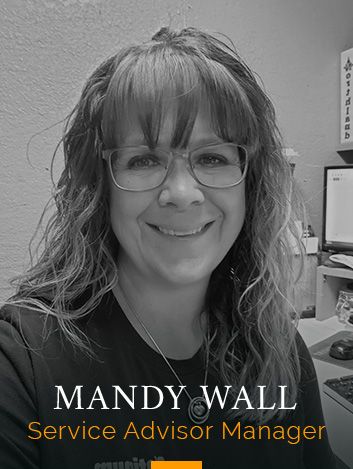 MANDY WALL
A mother of 5 with 3 grandchildren, Mandy began writing service in 1994 for her dad at a small independent shop in Moorcroft, WY called Williams Auto Repair. Since that time she has also written service for Thunder Basin Ford in Gillette, WY and Spradley Barr Ford in Fort Collins, CO before coming to Platinum Garage in 2017.
Spending time with her family is at the top of what Mandy likes to do in her free time. When not with them, she can often be found on the banks of the Powder River with her fishing line in the water hoping to catch a record-breaking catfish or sturgeon. She also enjoys spending time in her garden, tending to her animals, and working in her yard.
When it comes to customer service, Mandy says "Communication and honesty are the two most important factors in providing superior customer service."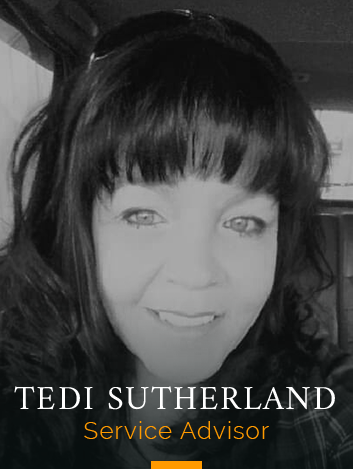 TEDI SUTHERLAND
With over 20 years of experience in the automotive industry, Tedi Sutherland is a great asset to Platinum Garage Team. She began her career detailing cars at an autobody shop in Buffalo, WY and eventually moved into the office where she learned to write work orders and dispatch work. Tedi spent 14 years at Thunder Basin Ford as both a Senior Master Service Writer and a Certified Service Manager. She also managed the service department at Chuck Deluxe Harley Davidson for 1.5 years.
Family and friends are very close to Tedi's heart and she enjoys spending time with them every chance she can. When she is not working, Tedi likes to spend time in the Big Horn Mountains camping, riding the Can Am, and riding Harley Davidson Motorcycles. Floating Sand Creek is another favorite past time along with touring the back roads of Wyoming and South Dakota.
When it comes to customer service, Tedi feels "It is imperative to give excellent customer service."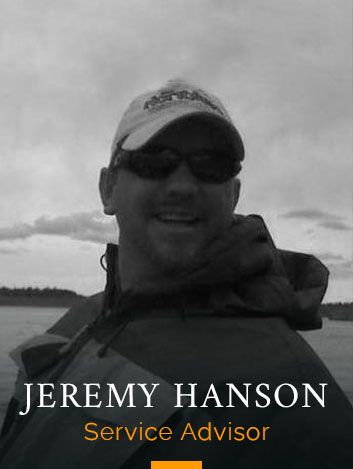 JEREMY HANSON
A 1993 Campbell County High School graduate with an Associate's Degree in Diesel Technology from Universal Tech, Jeremy Hanson joined the Platinum Team in August of 2022. He spent 25 years in the mining and construction industry and understands their needs and challenges. After leaving the mining and construction industry, Jeremy became a Service & Parts Manager for a boat dealership in Missouri. There he learned several new ideas that he brought with him to Platinum.
Jeremy is an avid fisherman and seizes every opportunity he can to have a hook in the water. Spending time with his grandson is also at the top of Jeremy's list of Things To Do when he's not at work. He also enjoys watching football, especially the Kansas City Chiefs, and playing drums.
When asked about customer service, Jeremy says, "I feel listening to your customer is key."
OUR TECHNICIANS
Our highly trained and deeply experienced mechanics are the lifeblood of our service shop. They service all of your automotive repair needs in Gillette, Wyoming, and the surrounding communities. Contact our shop now for all your service needs.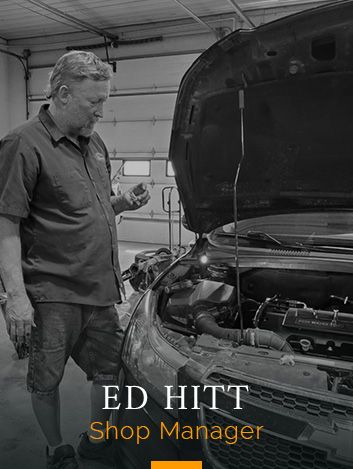 ED HITT
SHOP MANAGER
Education/Experience:
Platinum Full Service Garage 2014-Current
Avalanche Motors 2008-2014
Newcastle Motors (Service Manager) 2003-2008
Certifications / Awards:
ASE Certified
Air Conditioning Certified
Ed moved to Gillette in the 80's however he considers Gillette his home and calls himself a native. During his time away from work he enjoys spending time with his children and grandchildren, working around his cabin, ATV'ing, and on many of the UW home games, you can find him in Laramie using his Green Mountain Grill to tailgate. He donates his time (and his grill) in the summers to compete in the Smokin' on the Prairie Charity Cook-Off. Ed not only works on all makes and models of vehicles but he also repairs trailers, replaces windshields, RV and boat winterization/repair, and some fabrication. If it has nuts and bolts Ed can fix it!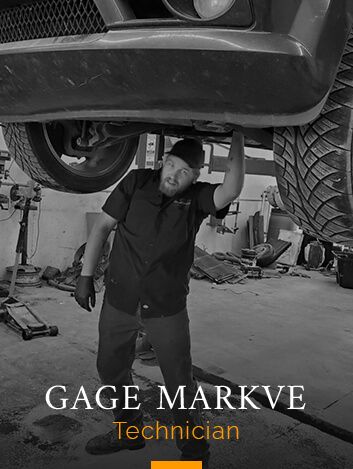 GAGE MARKVE
TECHNICIAN
Education/Experience:
Thunder Basin Ford
About Gage:
Gage Markve grew up on a farm in the Gillette area and graduated from Campbell County High School. If he's not working Gage can be found hunting, fishing, riding his motorcycle, or simply enjoying the view from his front porch. Gage is very family-oriented and spends every possible minute he can with his son. While Gage's passion is diesel engines, he enjoys a challenge and is willing to work on whatever may come his way.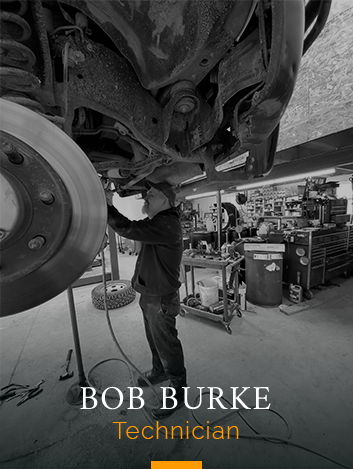 BOB BURKE
TECHNICIAN
Education/Experience:
ASE & ATRA Certified
Associates Degree in Automotive/Diesel
About Bob:
A Campbell County High School Graduate, Robert Burke received his Associates Degree in Automotive/Diesel from Universal Technical Institute while serving as a Motor Transport Operator in the United States Army Reserve.
Both ASE and ATRA Certified, Bob has extensive expertise with both automatic and manual transmissions and is skilled in all aspects of auto repair. Bob is experienced with both foreign and domestic vehicles and enjoys working on both.
When he is not busy turning wrenches, spending time with his wife and children ranks #1 with Bob. He also enjoys hunting, shooting, and riding his motorcycle.
With 30 years of experience, Bob's focus has always been on customer satisfaction.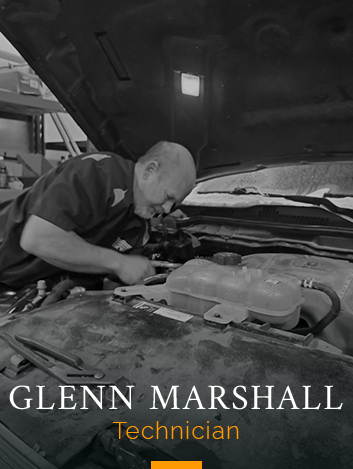 GLENN MARSHALL
TECHNICIAN
Education/Experience:
Platinum Garage: July 2021 – Present
Firestone Complete Auto Care (Lead Technician): 2019 – July 2021
Agfinity, Inc Greeley Car Care Center (Service Manager): 2017 – 2019
Agfinity, Inc Eaton Car Care Center (Store Manager): 1998 – 2017
Army National Guard (63X Maintenance Supervisor): 1997 – 2013
United States Army (63B Light Wheel Mechanic): 1993 – 1997
Certification/Awards:
ASE A1 Engine Repair
ASE A4 Steering and Suspension
ASE A5 Brakes
ASE A6 Electrical/Electronic Systems
ASE A7 Heating and Air Conditioning
About Glenn:
A retired 20-year Veteran, Glenn Marshall comes to Platinum Garage with over 25 years of experience in the automotive industry. Glenn is well versed in all areas of automotive repair including tires, diagnostics, basic maintenance, inspections, brakes, steering and suspension, heating & air conditioning, as well as both engine and electrical repairs.
Glenn's wife, children, and grandchildren are at the top of his list of favorite things. During his off time, you will most likely find Glenn with his family. Whether it be working around their home, cheering on the local hockey team, or exploring a new fishing hole, Glenn values the time he spends with his family. Glenn is also a huge supporter of any team that his grandchildren are playing on.
When it comes to customer service, Glenn feels that "The needs of the customer come first helping to ensure the total health of the vehicle."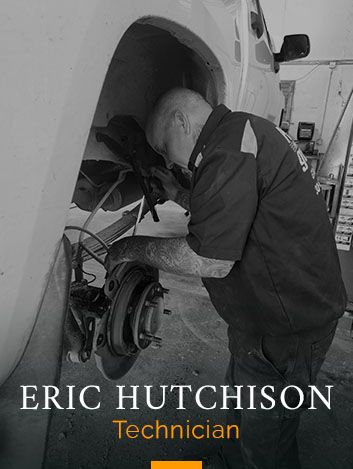 ERIC HUTCHISON
TECHNICIAN
Education/Experience:
Platinum Garage 2022-Present
Tom Dwyer's Automotive (Lead Technician) 2017-2022
Midas 2003-2017
Sears 1993-2003
Delta Park 76 Station 1990-1993
Certifications/Awards:
ASE Master Certification
Undercar Specialist
X1 Exhaust Systems
Hunter Alignment School
About Eric:
Born and raised in Molalla, Oregon, 20 miles outside of Portland, Eric Hutchison comes to Platinum Garage with extensive experience in hybrid and electric vehicles as well as a vast knowledge of imports including Subaru, Audi, Volkswagen, Mini, BMW, Toyota, Honda, Hyundai, Kia, Volvo, and Fiat.
Eric loves to make everything go faster! When he's not busy turning wrenches at the shop, Eric enjoys riding, fixing, and building motorcycles. On his bucket list is to race the Mint 400 on his dirt bike. He enjoys hunting and fishing and has a great love for animals, especially dogs. You will always find his four-legged best friend, a red healer named Luna, close by his side.
When it comes to repairing a vehicle, Eric states, "I take pride on every vehicle as if it were mine or my mother's. When I repair a vehicle, my goal is it should look like it was never at the shop except it is fixed." When speaking of customer service Eric states, "I think doing something that improves someone else's life, little or huge, makes me the happiest. That's why I enjoy being a technician. Someone can be in the dumps because their only lifeline, their vehicle, is broken. That can be fixed, and unfortunately sometimes other things can't be. Mechanical things I can fix and help make someone's day better."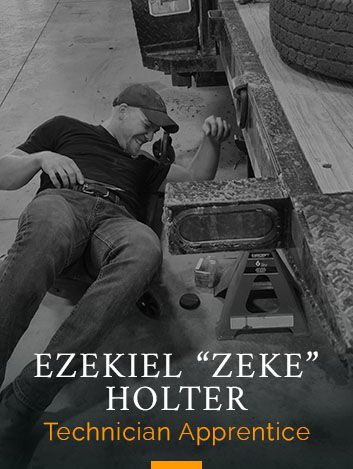 EZEKIEL "ZEKE" HOLTER
TECHNICIAN APPRENTICE
Education/Experience:
Platinum Garage 2021-Present
JV Logging 2019-2021
Tiaga Technologies 2015-2019
Certifications/Awards:
ASE A5 Brakes
ASE A4 Steering and Suspension
ASE A3 Manual Transmission and Drive Axles
Diesel Mechanic/Heavy Duty Truck Maintenance Online Program
About Zeke:
Born in Lakeside, MT, Zeke was raised in Saskatchewan Canada. He began working for farm neighbors and a local butcher shop at the age of 14 and developed a strong work ethic in doing so. In 2019 he moved to British Columbia where, when not at work, he helped his older brother set up his farm. From there Zeke spent several months in the state of Washington helping his grandfather before moving to Wyoming and becoming employed at Platinum Garage.
In his off-time Zeke enjoys riding his dirt bike as well as modifying and improving the performance and off-road capability of all types of vehicles. He can often be found practicing long range precision rifle shooting and hand reloading the rounds that he uses. Zeke's favorite past time is annoying his little brother who moved to Gillette with him.
When asked about customer service, Zeke says, "I think one should do everything possible to help others in all manners of life. As a mechanic I can help people with the same passion to get to where they need to be, to help in their own way."