About Us
YOUR FULL SERVICE GARAGE
Platinum Garage is a locally owned and operated, full-service mechanic shop in Gillette, Wyoming. Our technicians are ASE-certified and sure to treat you and your vehicle with respect every time you come to see us. Our services reach every town or city within a 200-mile radius of our shop. We are also the only AAA-approved auto repair facility in a 100-mile radius.
We have been in business since 2006. Our highly trained and experienced mechanics are the lifeblood of our service shop. At Platinum Garage, your car, truck, or SUV tune-up starts with an oil change followed by a system check. If we discover any significant problems along the way, we'll walk you through your options for repair. Our comprehensive service list includes:
Oil change, lube, and filter check

Air filter replacement

Spark plugs and wire replacement

Brake check

Brake system repair

Transmission fluid check and replacement

Emergency brake adjustment

Air conditioning system check

Engine repair

Heating and air conditioning repair and service

Steering, suspension, and drive train inspection and replacement

Diesel repair

And more!
Please note that we are not a body shop, and we are not equipped to work on semis.
No job is too big or small for our team to handle! We sell and install B&W hitches and we are a distributor for Thunderstruck Bumper Guards. Whatever your automotive needs, Platinum Garage is ready to help!
We are large enough to serve and small enough to care. Contact us to schedule your appointment today.
OUR SERVICE ADVISORS
Our service advisor team is the liaison between you and our technicians. These ladies are the face of the shop and strive to provide you with the best customer service this industry has to offer every time!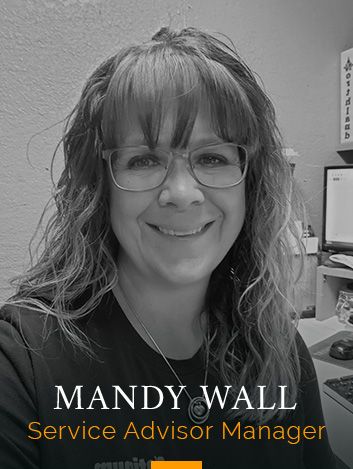 MANDY WALL
A mother of 5 with a set of twin granddaughters, Mandy began writing service in 1994 for her dad at a small independent shop in Moorcroft, WY called Williams Auto Repair. Since that time she has also written service for Thunder Basin Ford in Gillette, WY, and Spradley Barr Ford in Ft. Collins, CO before coming to Platinum Garage.
Spending time with her family is at the top of what Mandy likes to do in her free time. When not with them, she can often be found on the banks of the Powder River with her fishing line in the water hoping to catch a record-breaking catfish or sturgeon. She also enjoys spending time in her garden, tending to her animals, and working in her yard.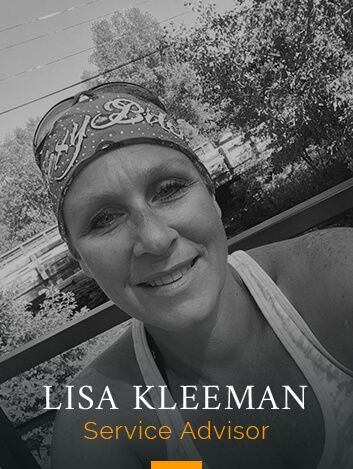 LISA KLEEMAN
Lisa Kleeman is a Gillette transplant who grew up in Casper, WY. Having joined the Platinum Garage Team in 2019, Lisa comes to us with a long history of working in customer service. She knows what she would expect if she were the customer and does her best to offer top-notch service when taking care of your automotive needs. Lisa's pride and joy are her four amazing children and five grandbabies. Much of her free time is spent with her family. Together they enjoy camping, hunting, and simply spending time together. An avid motorcyclist, Lisa and her husband have made a tradition of attending the Sturgis Motorcycle Rally, something she and her husband both look forward to every year!
OUR TECHNICIANS
Our highly trained and deeply experienced mechanics are the lifeblood of our service shop. They service all of your automotive repair needs in Gillette, Wyoming, and the surrounding communities. Contact our shop now for all your service needs.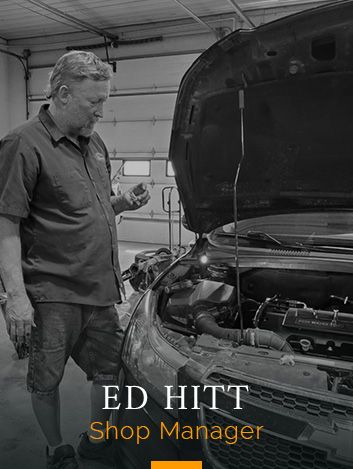 ED HITT
SHOP MANAGER
Education/Experience:
Platinum Full Service Garage 2014-Current
Avalanche Motors 2008-2014
Newcastle Motors (Service Manager) 2003-2008
Certifications / Awards:
ASE Certified
Air Conditioning Certified
Ed moved to Gillette in the 80's however he considers Gillette his home and calls himself a native. During his time away from work he enjoys spending time with his children and grandchildren, working around his cabin, ATV'ing, and on many of the UW home games, you can find him in Laramie using his Green Mountain Grill to tailgate. He donates his time (and his grill) in the summers to compete in the Smokin' on the Prairie Charity Cook-Off. Ed not only works on all makes and models of vehicles but he also repairs trailers, replaces windshields, RV and boat winterization/repair, and some fabrication. If it has nuts and bolts Ed can fix it!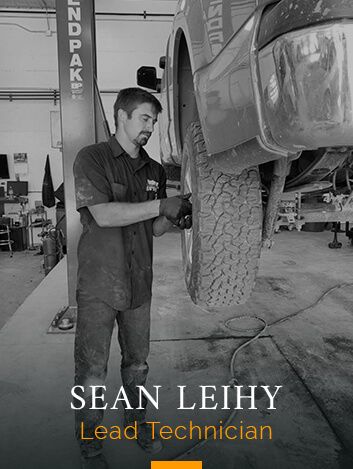 SEAN LEIHY
LEAD TECHNICIAN
Experience:
Army National Guard 2009 - 2018
Platinum Full Service Garage 2018 - Current
Thunder Basin Ford 2013 - 2018
Titus Will Ford 2011 - 2013
Sound Ford 2010 - 2011
Hillsboro Ford 2007 - 2010
Certifications/Awards:
ASE Certified
2015 - 2018 Ford Senior Master Technician
Diesel Engine Repair and Performance
Gas Engine Repair and Performance
Steering and Suspension
Climate Control
An 11 year Ford Technician, Sean Leihy has extensive experience with Ford diesel engines. Sean is also experienced in installing Roush superchargers and exhaust systems.
Born in Buffalo, WY and raised in Kansas, Sean left the dealership world in 2018 to join the Platinum Garage Team. When away from the shop, Sean can often be found with his family in a cabin in the Big Horn Mountains. Together they enjoy hiking and 4-wheeling. Sean also enjoys hunting and working around his home.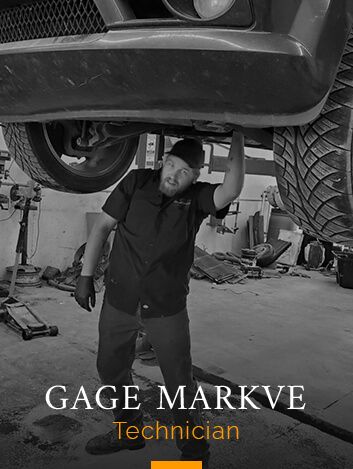 GAGE MARKVE
TECHNICIAN
Education/Experience:
Thunder Basin Ford
About Gage:
Gage Markve grew up on a farm in the Gillette area and graduated from Campbell County High School. If he's not working Gage can be found hunting, fishing, riding his motorcycle, or simply enjoying the view from his front porch. Gage is very family-oriented and spends every possible minute he can with his daughter. While Gage's passion is diesel engines, he enjoys a challenge and is willing to work on whatever may come his way.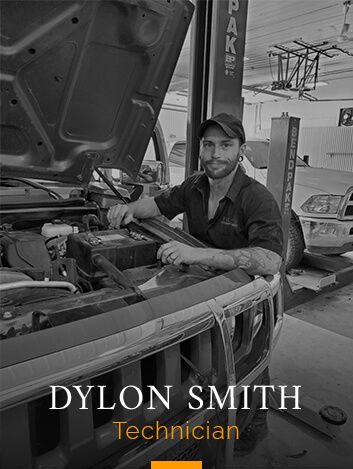 DYLON SMITH
TECHNICIAN
Education/Experience:
K&K Auto Repair
About Dylon:
A Gillette Native, if you're looking for someone to work on your import Dylon Smith is the technician you want! Dylon joined the Platinum Garage Team after spending 5 years at K&K Auto Repair. While Dylon is well versed in all makes and models, European vehicles are his specialty.
Married with a daughter; camping, fishing, hiking, and backpacking in the Big Horn Mountains are a few of the things Dylon enjoys doing in his spare time. When not at work he can be found at the gym powerlifting.
Dylon also has extensive knowledge when it comes to installing stereos. He has a passion for fabricating/customizing speaker boxes out of both wood and fiberglass.
Another skilled ASE Certified Technician, Dylon Smith is a great addition to the Platinum Garage Family!